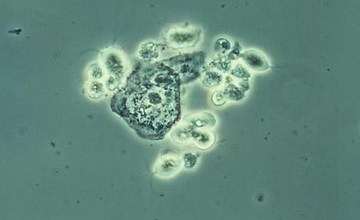 Researchers find a viral symbiont of a protozoan parasite increases virulence to the human host.
When humans have parasites, the organisms live in our bodies, co-opt our resources, and cause disease. However, it turns out that parasites themselves can have their own co-habitants.
Researchers from Harvard Medical School, Brigham and Women's Hospital, and SUNY Upstate Medical University have found that the pathogenicity of the sexually transmitted protozoan parasite Trichomonas vaginalis—the cause of trichomoniasis—is fueled by a viral invader. Trichomoniasis infections are more common than all bacterial STDs combined. Annually, trichomoniasis affects nearly 250 million people, typically as vaginitis in women and urethritis in men.
Click "source" to read more.