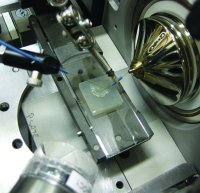 Listening to Life: New chemical imaging method probes the communications of live microbial colonies
Once impossible, scientists can now eavesdrop on microbes, thanks to a new technique from scientists at Pacific Northwest National Laboratory and three universities. Microbes converse by releasing simple and complex molecules, called metabolites. The metabolites interact with and alter their environment and nearby cells. To listen in, the team combined nanospray desorption electrospray ionization mass spectrometry, or nanoDESI, and a new bioinformatics technique. This approach allows scientists to identify and quantify, in time and space, the metabolites around living bacterial colonies.
Click "source" to read more.