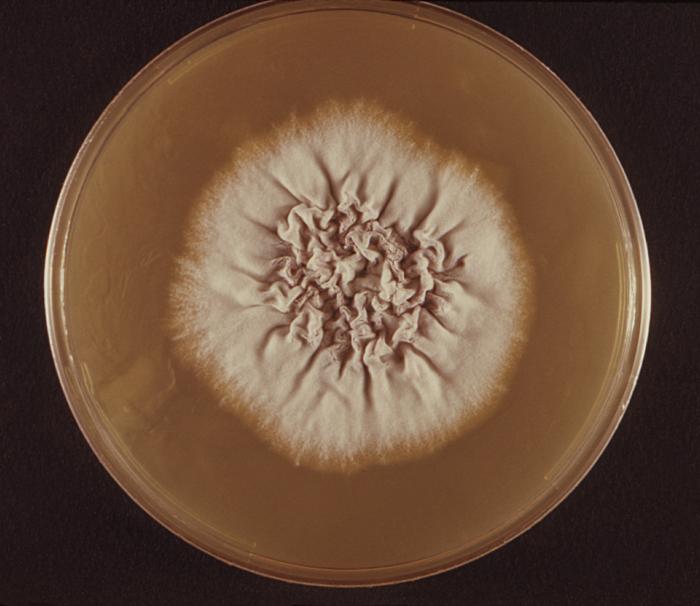 This photograph depicts the frontal view of a Petri dish within which fungal colonies of Trichophyton rubrum var. granulare had been cultured. Revealed is the colonial morphology, which in the case of T. rubrum is said to be waxy, glaborous, i.e., flat to cottony, and display from a frontal perspective, a white to bright yellowish-beige, and even a red-violet coloration. From the reverse (see PHIL 10541) or from the back, the colonies display a coloration that is a light yellowish to brown, or a reddish brown.
Dermatophytes are types of fungi that cause common skin, hair and nail infections known as dermatophytoses. Infections caused by these fungi are also known by the names "tinea" and "ringworm." It is important to emphasize that "ringworm" is not caused by a worm, but rather by a type of fungus called a "dermatophyte." One example of a very common dermatophyte infection is athlete's foot, which is also called tinea pedis. Another common dermatophyte infection affecting the groin area is jock itch, also known as tinea cruris.
Trichophyton rubrum and Trichophyton tonsurans are two common dermatophytes. These two species are usually transmitted from person to person. Another common dermatophyte is Microsporum canis, which is transmitted from animals such as cats and dogs to people. Dermatophytes like to live on moist areas of the skin, such as places where there are skin folds. They can also contaminate items in the environment, such as clothing, towels and bedding.