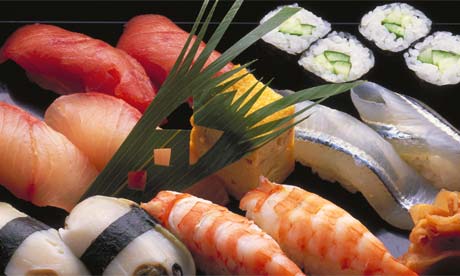 The next time you order sushi in a Japanese restaurant, raise a glass of sake to the countless marine microbes that might be clinging to it.
Bugs that live on the seaweed used to wrap sushi have given some of their genes to bacteria that live in the human gut, and in doing so, help them to digest the food.
Scientists stumbled on the discovery after sequencing the genetic make-up of marine bacteria that live on Porphyra seaweed and searching DNA databases for matches.
Eleven genes used by the bugs to break down carbohydrates in seaweed also showed up in bacteria isolated from the intestines of Japanese people, but were absent from the gut microbes of North Americans.
Writing in the journal Nature, the scientists describe how a long tradition of seaweed eating in Japan that dates back at least to the 8th century had caused their gut bacteria to adapt to the national diet. Marine microbes probably swap their genes with bacteria in the gut, giving some the ability to digest seaweed.