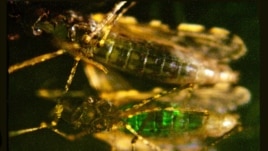 In the battle against malaria, doctors may one day have a microscopic ally.
New research suggests that genetically modifying a bacterium commonly found in the gut of mosquitoes that harbor the malaria-causing parasite can make the mosquitos less likely to carry the disease.
If scientists can find a way to spread these bacteria in the wild, they could help end malaria's deadly reign in the tropics
Malaria kills approximately one million people every year, mostly African children under the age of 5.
Molecular biologist Marcelo Jacobs-Lorena, said, "It's a very serious problem. It's one of the three deadliest infectious diseases."
And, he said, it's one that is very hard to control.