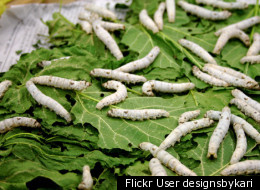 Who doesn't like silk? It feels great in every temperature and is birthed from the bodies of amazing little worms. It can also kill bacteria like anthrax, according to a new study.
Scientists at the U.S. Air Force Research Laboratory concluded that bleach-soaked silk can wipe out E. coli and anthrax within minutes of contact. In the event of a terrorist attack, people could hang silk curtains as protective sheaths in their homes, researcher Rajesh Naik and his colleagues suggest.
In a more cheerful scenario, germaphobe moms might also want to take advantage of the fabric's germ-killing potential. Though other types of bleach-soaked fabrics like polyester and nylon kill bacteria that touches them, they don't do anything about "spores," or dormant bacteria with tough casings. Silk works on both spores and bacteria, the scientists found.