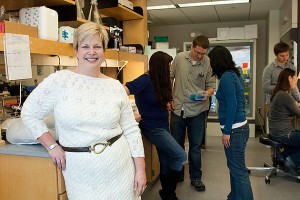 A virus that was first found in sewers and shares its name – P22 – with a semi-automatic handgun might seem an unlikely object of beauty.
But to Carolyn Teschke, professor of molecular and cell biology, P22 is not only beautiful, it has absorbed her attention since she was a postdoctoral researcher in the early '90s at MIT.
She recently was awarded a renewal of her $1.2 million National Institutes of Health (NIH) grant to study how P22 assembles itself, knowledge that could one day be applied to other, more complex viruses. Ultimately, this type of basic research could help identify ways for drugs to target viruses, such as those that cause the flu or common colds.
P22, which infects only Salmonella bacteria, might itself become an object of interest – and beauty – to more than microbiologists. As bacteria become more and more resistant to antibiotics, interest is renewing in phage therapy – using bacteriophages (viruses that attack bacteria) to combat infections.
Click "source" to read the entire article.