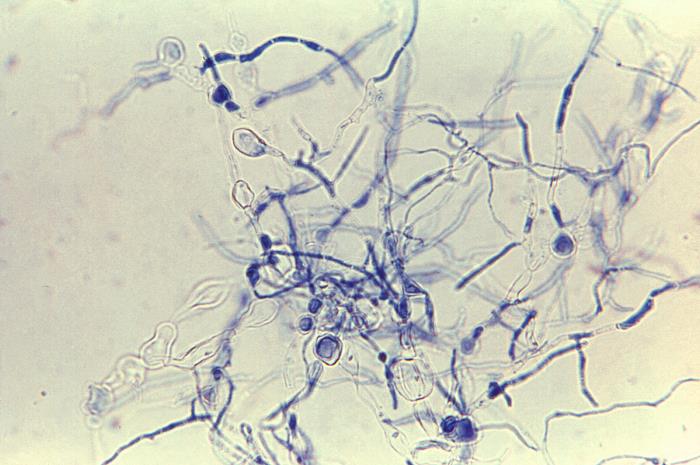 Magnified 475X, this photomicrograph depicts some of the structural morphology of numerous Trichophyton violaceum fungal organisms. This dermatophyte had been grown in a medium of Sabouraud dextrose agar, and of note are the organism's mycelia, or branching hyphae, i.e., the vegetative portion of the fungus, and ovoid-shaped, thick-walled chlamydospores.
What are dermatophytes?
Dermatophytes are types of fungi that cause common skin, hair and nail infections. Infections caused by these fungi are also known by the names "tinea" and "ringworm." It is important to emphasize that "ringworm" is not caused by a worm, but rather by a type of fungus called a "dermatophyte." One example of a very common dermatophyte infection is athlete's foot, which is also called tinea pedis. Another common dermatophyte infection affecting the groin area is jock itch, also known as tinea cruris.
Thanks to the CDC's PHIL for this image.