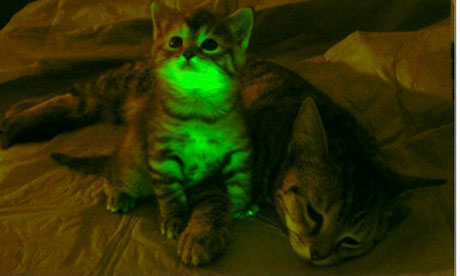 Scientists hope cloning technique that produced genetically modified cats will aid human and feline medical research.
It is a rite of passage for any sufficiently advanced genetically modified animal: at some point scientists will insert a gene that makes you glow green. The latest addition to this ever-growing list – which includes fruit flies, mice, rabbits and pigs – is the domestic cat.
US researcher Eric Poeschla has produced three glowing GM cats by using a virus to carry a gene, called green fluorescent protein (GFP), into the eggs from which the animals eventually grew.
Click "soource" for entire article.
"Antiviral restriction factor transgenesis in the domestic cat" - Nature Methods (http://www.nature.com/nmeth/journal/vaop/ncurrent/full/nmeth.1703.html)