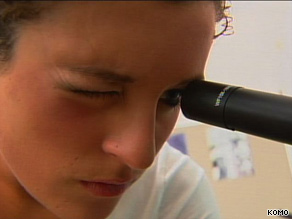 This is an amazing story:
"For eight years, Jessica Terry suffered from stomach pain so horrible, it brought her to her knees. The pain, along with diarrhea, vomiting and fever, made her so sick, she lost weight and often had to miss school.
Her doctors, no matter how hard they tried, couldn't figure out the cause of Jessica's abdominal distress.
Then one day in January, Terry, 18, figured it out on her own.
In her Advanced Placement high school science class, she was looking under the microscope at slides of her own intestinal tissue -- slides her pathologist had said were completely normal -- and spotted an area of inflamed tissue called a granuloma, a clear indication that she had Crohn's disease.
"It's weird I had to solve my own medical problem," Terry told CNN affiliate KOMO in Seattle, Washington. "There were just no answers anywhere. ... I was always sick."
Terry, who graduated from Eastside Catholic School in Sammamish, Washington, this month, is now being treated for Crohn's, says her science teacher, MaryMargaret Welch."
This really makes me wonder about her doctors. It's not like Crohns Disease is extremely rare.