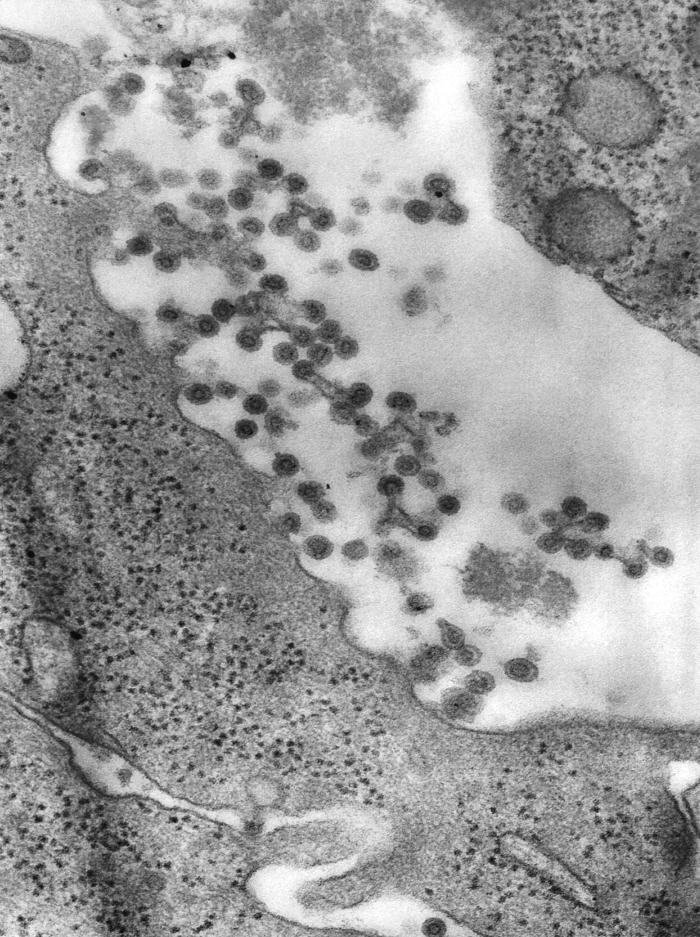 This negatively-stained transmission electron micrograph (TEM) revealed the presence of Rubella virus virions, as they were in the process of budding from the host cell surface to be freed into the host's system, thereby, producing an enveloped virus particle, which means that after budding, the spherical virions' icosahedral capsid is enclosed in the host cell membrane. Inside the capsid lies the Rubella virus' positive-sense single-stranded RNA ((+)ssRNA) genome. The Rubella virus is known to be the cause of rubella, otherwise known as German measles.
Rubella, also known as German measles or 3-day measles, is a respiratory viral infection characterized by mild respiratory symptoms and low-grade fever, followed by a maculopapular rash lasting about 3 days. In children there may be no significant respiratory prodrome and the illness may not be diagnosed since the rash may be mild and mimic other conditions. It is estimated that 20-50% of infections are subclinical. Complications occur more frequently in adult women, who may experience arthritis or arthralgia, often affecting the fingers, wrists and knees. These joint symptoms rarely last for more than a month after appearance of the rash.
Up to 85% of infants infected with rubella in the first trimester of pregnancy will suffer birth defects and/or neurologic abnormalities (Congenital rubella syndrome, CRS).