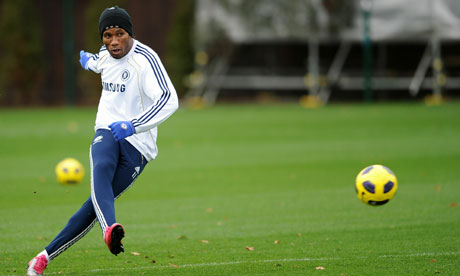 Carlo Ancelotti, the Chelsea manager, has revealed that Didier Drogba has just recovered from a bout of malaria, a disease the club are helping to fight.
The Ivory Coast striker has been on the Chelsea sidelines in recent weeks. This was put down to a virus and the player was only fit enough to be a second-half substitute against Liverpool on Sunday.
But today Ancelotti revealed: "Didier has had problems. He had a virus and lost power in training. He lost his condition. He's had treatment and now he's OK. He'll come back immediately in the best condition.
"He suffered, obviously, because he wasn't 100% but now, after treatment, he'll be better. He had malaria. He had the tests in the last day, and they showed this kind of virus. I don't know where he got it from. I gave him a few days off and he went on holiday for a few days, and then he has malaria. But it's over now. He's OK."
Chelsea have teamed up with their official international charity partner, Right To Play, to support the United Against Malaria initiative. United Against Malaria is a partnership of influential leaders, politicians, organisations, and sporting stars who joined forces ahead of the World Cup in South Africa with the objective of tackling a disease that kills an African child every 30 seconds.