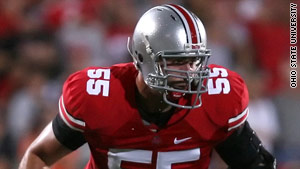 It was the fifth game of the 2009 Ohio State University football season, and offensive lineman Andy Miller cheered as the Buckeyes sprinted past the Indiana Hoosiers, 33-14, the fourth win of the year. The campus was brimming with excitement, yet for Miller the occasion was bittersweet.
"I was in my bed, watching them on television," recalls the 22-year-old senior, who could not participate last October because he was sickened with the flu.
Standing 6 feet, 7 inches and weighing more than 300 pounds, Miller says exercise and daily training keep him fit, so when flu shots were administered on campus, he thought he didn't need one.
"I had heard horror stories about the flu," Miller says, "but, I've never gotten very sick, so I didn't worry about it."
That, he says, was not a good play.