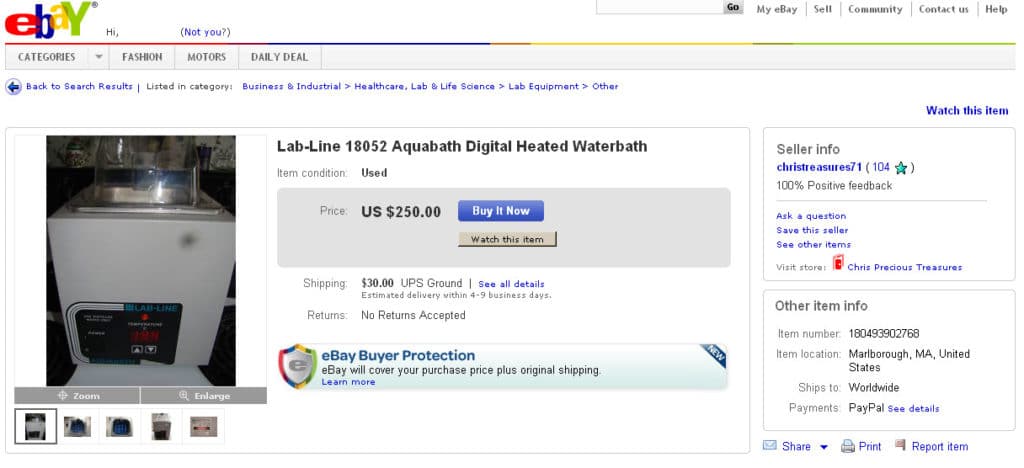 While almost all of you are probably familiar with the power of eBay to bring you everything from concert tickets to electronics to your very own Batmobile, you may not have realized that the world's largest garage sale also has quite a collection of laboratory equipment. I've been turning to this source for equipment for several years now, and in this post I'll fill you in on some of the ins and outs of buying lab equipment off eBay.
Where do I look?
Of course you can search for whatever you want, but if you want to surf around and see what's available, click on the 'Business & Industrial' category, then go to 'Healthcare, Lab & Life Science', and from there you will probably want the 'Lab Equipment' category, but 'Lab Supplies' might also peak your interest. If you have ever really scoured eBay for a particular item, you probably already know that sometimes the sellers don't list their item in the correct categories. So if there is something in particular you want, don't just browse the category that it should be in, but search for it, and search for it in a couple different ways, as I've found eBay's search engine to be a little finicky (Bio-Rad is different than BioRad, ect, ect).
What is it good for?
The most obvious use for eBay is to purchase second hand equipment on the cheap. It may be that the piece of equipment you want would be nice to have, but not so essential that it warrants the bite it would take out of the lab budget, or it may be that the lab is running on fiscal fumes right now, but needs to replace a piece of equipment to maintain productivity (a scenario that is sadly all-to-common right now). Outside of research labs, eBay might also be a viable option for teaching labs, where it seems money is always an issue. For lab heads, eBay might also be a reasonable way to equip empty benches in the lab, as patience can be rewarded with some phenomenal buys.
To keep reading and see some comparison pricing between new equipment and things selling on ebay, click over to the Source link,