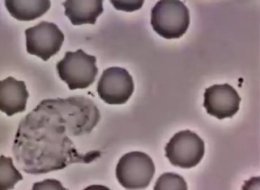 A less than 30-second movie from the 1950s shows a white blood cell (neutrophil) pursuing the Staphylococcus aureus bacteria on blood film.
The 16-mm moving image was captured by late David Rogers, who at the time was a professor at Vanderbilt University and went on to co-chair the National Commission on AIDS.
Harvard medicine professor Thomas Stossel further explained the image in 1999:
Blood platelets adherent to the underlying glass are also visible. Notable is the characteristic asymmetric shape of the crawling neutrophil with an organelle-excluding leading lamella and a narrowing at the opposite end culminating in a "tail" that the cell appears to drag along. Contraction waves are visible along the surface of the moving cell as it moves forward in a gliding fashion. As the neutrophil relentlessly pursues the microbe it ignores the red cells and platelets.