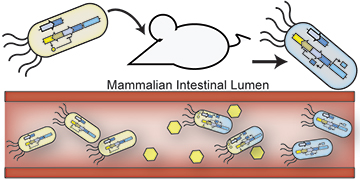 It's a jungle in there. In the tightly woven ecosystem of the human gut, trillions of bacteria compete with one another on a daily basis while they sense and react to signals from the immune system, ingested food and other bacteria.
Problems arise when bad gut bugs overtake friendly ones, or when the immune system is thrown off balance, as in Crohn's disease, celiac disease and colorectal cancer. Doctors have struggled to diagnose these conditions early and accurately. Now a new, engineered strain of E. coli bacteria could deliver status updates from this complex landscape to help keep gastrointestinal diseases at bay.
As reported in Proceedings of the National Academy of Sciences, the new strain non-destructively detected and recorded an environmental signal in the mouse gut and remembered what it "saw." The advance could lead to a radically new screening tool for human gut health.
Click "source" to read more.