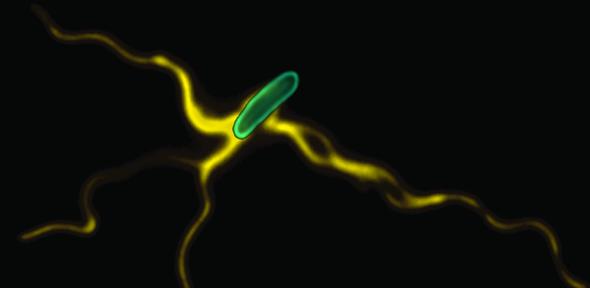 Cambridge scientists have uncovered the mechanism by which bacteria build their surface propellers (flagella) – the long extensions that allow them to swim towards food and away from danger. The results, published this week in the journal Nature, demonstrate how the mechanism is powered by the subunits themselves as they link in a chain that is pulled to the flagellum tip.
Previously, scientists thought that the building blocks for flagella were either pushed or diffused from the flagellum base through a central channel in the structure to assemble at the flagellum tip, which is located far outside the cell. However, these theories are incompatible with recent research showing that flagella grow at a constant rate. The completely new and unexpected chain mechanism, in which subunits linked in a chain 'pull themselves' through the flagellum, transforms understanding of how flagellum assembly is energised.
Click "source" to read more.