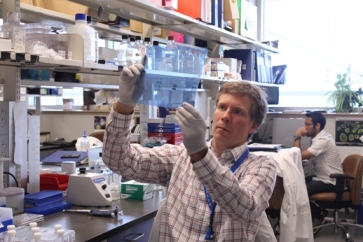 Ottawa researchers have developed unique virus-derived particles that can kill human blood cancer cells in the laboratory and eradicate the disease in mice with few side effects. The study is published in Blood Cancer Journal by co-senior authors Drs. David Conrad and John Bell of the Ottawa Hospital Research Institute (OHRI) and the University of Ottawa (uOttawa).
While Dr. Bell and his colleagues have been investigating replicating viruses for the treatment of solid cancers for many years, with very promising results, this is the first major success they have had treating blood cancer (leukemia). It is also the first success they have had using a non-replicating virus-derived particle as opposed to a replicating virus.
Click "source" to read more.
Click on links to view video: Video of Dr. Conrad discussing the study: https://www.dropbox.com/s/wkun87x8rew6xmt/MVI_1235.MOV.
Video of leukemia cells rapidly dying after treatment with the virus-derived particles: https://www.dropbox.com/s/mfsgxxniri13bwv/conradreleasevideo.avi.